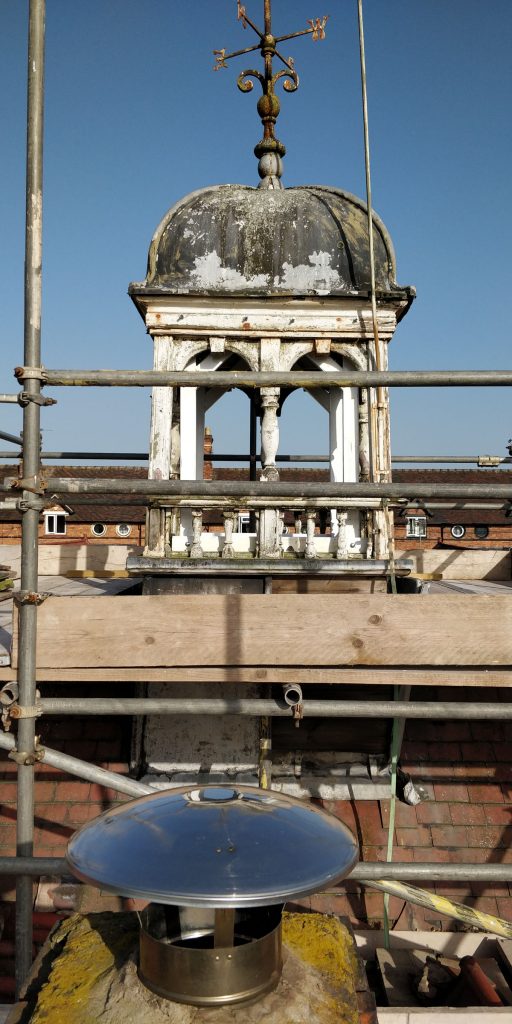 Over a century of wind and weather had taken its toll of the bell tower on top of The Brownlow, and even from the ground it had become visibly unstable. It has now been stabilised with an internal steel framework, fabricated offsite by CJR Engineering from Bronington to a design by our Chairman, Chris Smith. The design challenge was to create something that could be taken up there in pieces and assembled inside the bell tower,
which is also known as a cupola. The lead covered cap on top of the tower is estimated to weigh around a third of a tonne, and that was the basis for the steelwork design. The assembly work, which was undertaken by Chris himself, was limited by the hunched, kneeling position required for work inside the tiny tower, to sessions of around an hour at a time and was hampered by June's extreme weather conditions, with record rainfall early in the month, followed by high temperatures. It took several days to complete the assembly.
Work to repair the crumbling Victorian timberwork must now be completed.
Total Page Visits: 235 - Today Page Visits: 1